The world's largest container liner docks at Nansha Port again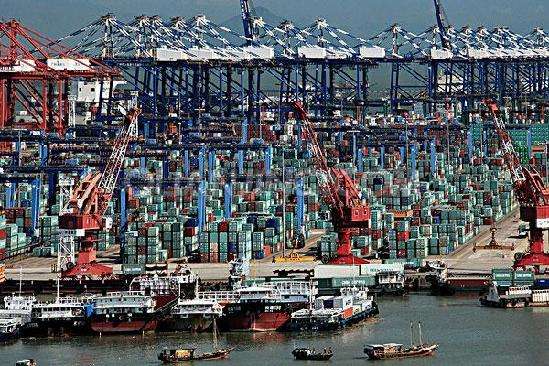 At 5:30 am on August 25th, the sound of a whistle awakened the dawn, and the sky gradually became shimmering with the morning glow. Accompanied by four high-power tugboats, the world's largest container ship, the OOCL Felixstowe, docked smoothly at Nansha Phase II. Surrounded by the dawn, the five top configuration shore bridges of Nansha Port immediately began their intense work.
The "Dongfang Felixsto" ship is one of the star giant ships of the 24188TEU super large container ship under Dongfang Overseas, with a length of 399.99 meters and a width of 61.3 meters. It is currently the world's largest container liner with the largest loading capacity and can be described as the "ship king" in the world today. It is worth mentioning that the sister ship "Eastern Spain", which runs on the same Asia Europe route as this ship, has docked at Nansha Phase II twice this year. Therefore, when dealing with the berthing operation of the "ship king", Nansha Phase II can be said to have a clear plan.
On this voyage, the "Eastern Felixsto" vessel needs to load approximately 2000 TEU of containers in Nansha, of which 1/5 are locally exported new energy vehicle containers. The Nansha Port Operations Department has worked together to coordinate relevant matters in advance based on the berthing plan, ensuring that this batch of new energy vehicle containers can be loaded smoothly.
Behind the orderly operation of the "Ship King" liner, it is inseparable from the strong hardware facility configuration, complete logistics network, safe and efficient operation, and smooth division of labor and cooperation in the port area. As the "brain" of production operations, the planning department should plan in advance the berthing positions of giant ships, the stacking of new energy vehicle containers in the yard, and the loading positions of ships, providing clear and clear plans and operational guidance for production operations. As the execution core of the operation department, the central control room ensures the safe berthing of the liner while analyzing specific issues. Sufficient gantry cranes and harbor trailers have been pre allocated to ensure the smooth progress of production. The cold danger room has fully played a logistical role, and strict supervision ensures the safety of goods within the port area.
The re berthing of the world's largest liner demonstrates the strong loading and unloading capabilities of the Nansha Port Area. As an important hub port in the "the Belt and Road" strategy, Nansha Phase I and Phase II will continue to improve the port infrastructure, constantly enrich their own operating experience, and bring better service experience to customers.